Great Therapy for Office Syndrome in Bangkok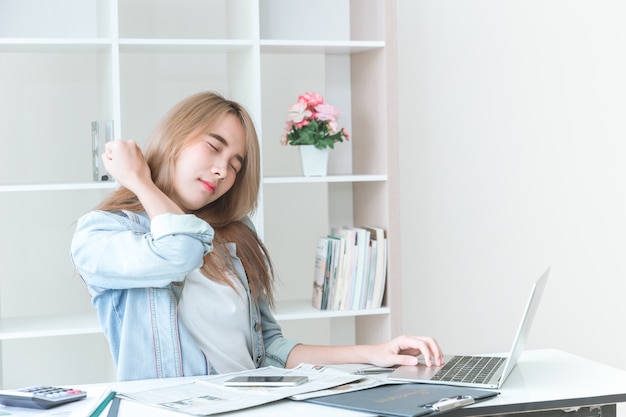 Today StyleUp would like to introduce the treatment which will help office workers who have been struggling with office syndrome. By sitting in an office for a very long time period will make you suffering from backache, headache, aching and tightness in the shoulders etc. Normally an office worker has to sit for 8-9 hours per day and doesn't move that much during the day which leads to office syndrome symptoms. It could be just mild symptoms to severe ones. If you still ignore it, it would cause long term health problems in the future which you don't want to happen I am sure for that. So I would recommend visiting a physiotherapist but today I have a spa in Bangkok that will help all office workers to get rid of the office syndrome!
This place is called OSS LOUNGE (OFFICE SYNDROME SOLUTION) which located at 80 Soi Sukhumvit, Khlong Tan Nuea, Watthana, Bangkok 10110. Providing treatment to relieve "Office Syndrome" symptoms with their special techniques and new modern innovations. One treatment takes only 60 minutes but it gives amazing results. They use 3 treatments to cure the Office Syndrome: physiotherapy, traditional Thai medicine and Japanese energy treatments.
Physiotherapy
Pictures source : https://osslounge.com
The OSS Physiotherapy will diagnosis your conditions and body structure. This step will be a diagnosis by their professional physiotherapists. The main benefits of the OSS Technique are to reduce Office Syndrome symptoms such as muscle pain and stiffness on your neck and back. This technique also improved muscle performance. The treatment will provide by their professional physiotherapists. They will also advise you on how to stretching your muscle on your neck and back. This will help to prevent recurring symptoms which could happen again in the future. The massage takes around 60 mins and It cost around $83 (USD)
Japanese energy treatments
Pictures source : https://osslounge.com
Japanese Sand Bath is The far-infrared ray (FIR) and negative ions are released from Japanese. This is a rock with a temperature of 50 degrees volcanic rock. This program is like cardio. It detoxifies waste in the form of sweat. The heat from the Japanese sand helps to stimulate the cardiovascular system, boosting your immune system and relax muscles. The treatment takes around 30 mins and It cost around $94 (USD)
THAI " AROMA MASSAGE "
Pictures source : https://osslounge.com
Thai Aroma Massage at OSSLoung is special because they use pure, cold-pressed coconut oil with a hard-and-soft massaging technique to relax the muscles. This treatment also helps to stimulate blood circulation along with reducing waste congestion. The massage takes around 60 mins and It cost around $65 (USD). You can be sure that all steps are providing by professional Thai massage therapists at OSSLoung.
How to go there